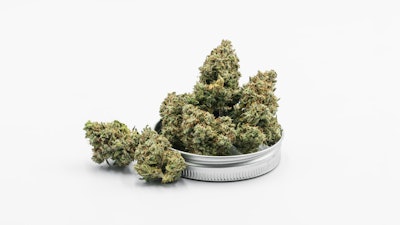 iStock
Springbig, a provider of SaaS-based marketing solutions, today released its second-quarter data report highlighting key cannabis market statistics across the United States and Canada.
Quarterly sales data in North America revealed general retail and consumer behavior trends throughout the continent. The average consumer basket size and total spend decreased this quarter by 9.5% and 9.8%, respectively, while in-store visits and sales increased YoY and between Q1 and Q2. Regarding specific products, flower continues to lead with 54% of sales, followed by vapes at 22%, edibles at 12% and concentrates at 8%. Data also notes that concentrates experienced the most significant decline YoY and between quarters at 9.3%.
Leading U.S. markets and Canadian provinces reflect regional consumer patterns. In California, YoY retail trends align with North American data patterns; in Colorado, store visits and sales decreased YoY and between quarters. Maryland, a newly-legal recreational market, saw a 13.1% increase in customers and a 10.2% increase in visits since Q2 of 2022. In Canada, Ontario experienced significant YoY growth in customers (58.5%), visits (56.7%) and sales (45.4%), along with higher-than-average flower sales at 67%.
"It is essential that cannabis retailers and brands have access to accurate, up-to-date consumer data to make the most strategic decisions for their businesses," said Jeffrey Harris, CEO of springbig. "Our Q2 data report highlights how the economic state of the cannabis industry has affected consumer purchasing trends. As a marketer, it is especially interesting to see that while basket size and overall spend has overall declined, retailers are seeing an increase in store visits. springbig will continue to equip the cannabis industry with the tools they need to succeed, from marketing solutions to consumer data reports."
To access springbig's complete 2023 Q2 data report, please visit https://info.springbig.com/2023_Q2_Quarterly_Market_Breakdown.