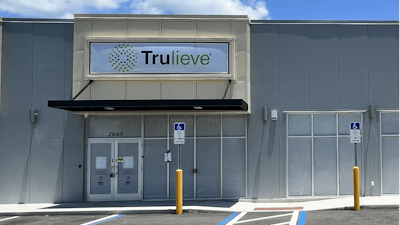 Trulieve
Trulieve announced the relocation of a medical dispensary in Kissimmee, Florida.
"Trulieve is committed to offering our Florida patients a broad selection of convenient locations and top-quality products to choose from, while also providing for best-in-class customer service," said Trulieve's Chief Executive Officer Kim Rivers. "This new location delivers on that commitment and we will continue to seek new opportunities to better serve this community."
Trulieve's portfolio of in-house brands includes Alchemy, Co2lors, Cultivar Collection, Modern Flower, Momenta, Muse, Roll One, Sweet Talk and Trekkers. Customers also have access to brands such as Alien Labs, Bhang, Binske, Black Tuna, Blue River, Connected Cannabis, DeLisioso, Khalifa Kush, Love's Oven, Miami Mango, Old Hippie Stash, O.Pen, Seed Junky and Sunshine Cannabis, all available exclusively at Trulieve in Florida.