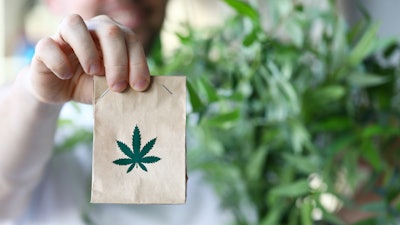 iStock
New York has shut down seven unlicensed cannabis dispensaries in Cayuga, Oswego, and Wayne counties that the state said were also illegally selling cannabis to underage customers, using new enforcement powers granted to the Attorney General by legislation signed into law by Governor Kathy Hochul.
The unlicensed dispensary chain, "I'm Stuck" has eight locations across Cayuga, Monroe, Oswego, and Wayne counties and is accused of selling cannabis without the proper authorization from the state's Office of Cannabis Management. In addition to making illicit retail sales, "I'm Stuck" processed and packaged cannabis products without a license.
The chain's owner, David Tulley, allegedly ignored repeated notices and OCM Orders to stop selling cannabis without a license at his "I'm Stuck" stores, and investigators from the Office of the Attorney General also observed store clerks selling cannabis products to underage customers on multiple occasions. In addition to shutting down Tulley's stores, Attorney General James and OCM seek penalties from Tulley, his companies, and the building owners where his stores are located for allowing an unlawful business to operate on their properties. Tulley could be fined millions of dollars in penalties as a result of today's action.
"As we work to build and expand the legal cannabis market, it's critical to crack down on illegal operators who are breaking the law and undermining the success of entrepreneurs and consumers who follow the rules," Governor Hochul said. "This year I fought to enact new legislation that protects New Yorkers by granting new power to State agencies and our Attorney General to take new enforcement actions against bad actors. New York will continue to fight for an equitable cannabis industry that rights the wrongs of the past while protecting the health and safety of all New Yorkers."
In emails to OCM, Tulley described his stores as a "consulting" business that informs customers about the effects of cannabis, and in return, customers receive free cannabis products. However, undercover OAG investigators visited six "I'm Stuck" locations owned by Tulley and were able to purchase $1,000 worth of cannabis products. During the undercover operations, OAG investigators observed that multiple "I'm Stuck" stores made sales to individuals under the age of 21.
In April 2023, Tulley's stores advertised an Easter egg hunt in Cayuga, Monroe, Wayne, Onondaga, and Yates counties, where Easter eggs were scattered around public places and could be redeemed for prizes, including cannabis products and children's toys. A Facebook page offered hints that the Easter eggs can be found in various places, including playgrounds, trails, and churches. An OAG investigator collected numerous Easter eggs and redeemed cannabis flower, edibles, cannabis seeds, and other products at the "I'm Stuck" store in Macedon, New York.
In May 2023, an undercover OAG investigator was accompanied by an underage undercover at the "I'm Stuck" store in Auburn, New York. Despite not showing an ID, the store clerk showed the underage undercover various cannabis options. The clerk sold the products to the undercover investigator and handed them to the underage undercover at checkout. At the "I'm Stuck" location in Ontario, an undercover OAG investigator was able to purchase $200 worth of cannabis products for an underage undercover. New York Cannabis Law prohibits access to cannabis by anyone under the age of 21.
In late June and early July 2023, inspections conducted by OCM seized over 47 pounds of cannabis flower, 244 pounds of cannabis edibles and 89 pounds of cannabis concentrate. Following issuance of an order to cease unlicensed activity at seven of these locations, David Tulley declared that he would defy the Office's orders and remain open for business. After verifying continued unlawful activity, the OCM requested assistance from the Attorney General to file this action to permanently close the location.
On a number of occasions, undercover OAG investigators asked store clerks if taxes were included in the price of the products they were purchasing and each time clerks informed them that taxes were not included.
This petition seeks to immediately shut down Tulley's stores and stop his companies from distributing, delivering, and dispensing cannabis products in New York. In addition, the petition seeks to require Tulley and his companies to pay penalties for violating New York's Cannabis Law. The Cannabis Law imposes a $10,000 penalty for each day in which an individual sells cannabis without a license, and a $20,000 penalty for each day an individual continues to sell cannabis after receiving an order to cease operating from OCM.
In addition, the petition seeks civil penalties from seven building owners where Tulley's stores are located for permitting an unlawful business to operate within their properties. Under the Cannabis Law, building owners can be fined a penalty of $10,000 per day for each day for allowing the unlicensed sale of cannabis at their property.