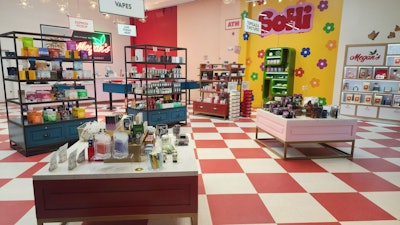 Megan's Organic Market
Megan's Organic Market, a wholesome cannabis storefront, is opening its fourth location and the first licensed cannabis dispensary in El Centro, California.
Megan's Organic Market (affectionately known as MOM) offers a unique experience unlike other cannabis dispensaries. When guests enter the warm, whimsical space, they are greeted by knowledgeable team members ready to answer any questions and help them find the perfect cannabis solution for their needs. As they wander, shoppers can pick up and check out CBD wellness products, cannabis-infused chocolate, gummies, and mints, as well as cannabis pre-rolls, bud, vapes, and concentrates—all openly displayed on tables and shelves. This open concept shopping experience is part of the company's commitment to creating an inviting and communal place where customers feel like friends.
With an intimate understanding of the cannabis industry at all levels from seed to sale, Souza has created a wholesome storefront where cannabis is destigmatized and consumers from all walks of life are welcome. She places an emphasis on education, providing resources both in store and on the MOM website so users can make informed decisions and embrace the benefits of cannabis.