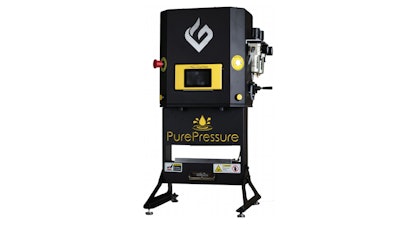 GreenBroz (San Diego, CA) has entered a strategic partnership with PurePressure (Denver, CO).
GreenBroz can now offer PurePressure's well-respected rosin presses, including the Pikes Peak and Longs Peak models.
According to GreenBroz, the PurePressure rosin presses pair well with the Alchemist Trichome Extractor from GreenBroz.
The Alchemist sifts blond trichomes, which can be pressed into rosin, offering one of the purest solventless extraction techniques on the market.
PurePressure's heat plates are made with 100% 6061 aircraft-grade aluminum.
The temperature can be targeted to within 1° of accuracy, from 0°F to 300°F.
PurePressure was awarded the 'Best Rosin Press' at the '2018 Terpenes and Testing World Conference'.
The company manufactures the machines at its facility in Denver, CO.