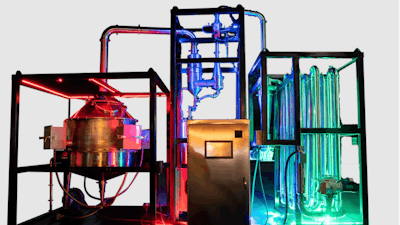 Boulder Creek
Cannabis and hemp extraction technology company Boulder Creek Technologies and Canadian-based engineering, manufacturing and technology company Maratek have entered into an exclusive relationship that will see Maratek manufacture, provide engineering services and scale Boulder Creek Technologies' Vapor-Static Extraction systems.
Maratek, which has partnered with companies such as Amway, Leef Labs, Veolia, Redecan/HEXO, CR Bard, Kazmira, Procan Labs and Tigercat on their manufacturing processes, will assist Boulder Creek Technologies in bringing its solventless Vapor-Static Extraction to market by taking on the construction and assembly elements of the systems, as well as engineering.
This new botanical extraction technology was invented by Boulder Creek Technologies Co-Founder Steve Bonde and offers a sustainable and safe way to extract botanicals with low operating costs thanks to its efficient single-operator model for high-volume biomass processing.
"With Maratek we have found a partner that has this same passion for the environment and botanical medicine, along with its strength and decades of experience in industrial system design, engineering, and manufacturing," said Boulder Creek Technologies CEO Rick Bonde. "They are the final piece in Vapor-Static's journey to market."
Though Vapor-Static Extraction was created by Boulder Creek Technologies, Maratek is working collaboratively to help increase its presence in the industry. Currently, work is underway manufacturing multiple next-generation, large-scale Vapor-Static systems capable of processing up to 1,000 pounds of biomass per day, in addition to system augmentations for existing clients.