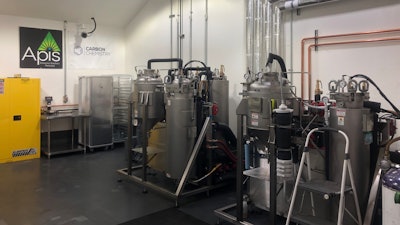 Emerald Valley
Luna Technologies, a Portland-based manufacturer of extraction equipment for the cannabis industry, announced the installation of its Oberon large-scale hydrocarbon, butane hash-oil (BHO) automated extraction machine at Eugene, Oregon-based Emerald Valley Processors, a vertically integrated cannabis grower, processor, and purveyor for the Oregon market.
Emerald Valley Processors selected the hydrocarbon extractor primarily for Oberon's large capacity and automated operation to help meet the growing demand for its recreational cannabis products. The Oberon enables large-scale operators such as Emerald Valley to process more than 40 pounds of fresh-frozen cannabis flower per hour (or 30 pounds of dried cannabis flower), and the ability to conduct back-to-back runs with just 60 seconds of downtime in between. With the Oberon, Emerald Valley Processors is able to process more than 1,000 lbs. of fresh-frozen cannabis in 24 hours.
The system also utilizes programmable and customizable extraction recipes through the Luna Technologies proprietary recipe book, available at one's fingertips through the built-in touchscreen and companion mobile software applications for iOS and Android devices.
"The capabilities of the Oberon, especially its ease of use and consistent production, sets this machine apart from other closed-loop hydrocarbon extraction machines we've tried," said Josh Lippold, owner and operator of Emerald Valley Processing. "The Oberon requires less training time to operate, freeing up our production team to focus on other higher-value activities that are fueling our growth. Furthermore, the array of data this machine produces helps us continually refine our processes, giving Emerald Valley Processors an edge in our highly competitive market."
"As interest in cannabis extracts and concentrates grows, leading companies like Emerald Valley Processors need greater capacity to keep pace, but at the same time, they must control production costs without sacrificing consistency and quality," said Jack Naito, president of Luna Technologies. "The Oberon empowers processors to create larger quantities and more consistent extraction products in less time while also reducing labor hours."