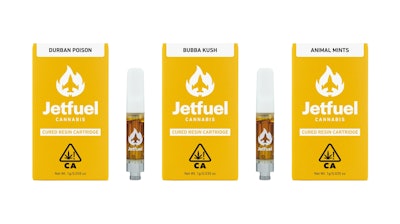 Gold Flora
Gold Flora, a vertically-integrated single-state cannabis company, today announced the launch of the Jetfuel Cannabis brand of products throughout California, beginning with the introduction of strain-specific cured resin cartridges.
As part of the Gold Flora product family, the Jetfuel brand will use Gold Flora's dynamic vertically-integrated resources: Flower is grown in the company's indoor cultivation facilities to ensure the best quality sourced material. Oils are produced at in-house labs to maintain the highest quality, potency and consistency. And distribution is driven through the company-owned sales division.
The 1-gram cured resin cartridges are strain specific with 100% cannabis terpenes to maximize the cannabinoid entourage effect. By leveraging proprietary curing techniques, the oil preserves a full-spectrum cannabinoid profile commonly lost due to degradation that occurs during distillation – resulting in a purer product, and better preserved aromatics and flavor compounds.
Strains at launch include Durban Poison, Animal Mints, Bubba Kush, Tropicanna Cookies, Triangle OG, and Alien Cookies. Continuous rotating strain drops will offer a variety of selections for all consumer preferences.
Many vape cartridges today use synthetic terpenes in an attempt to mimic the strain's original profile, and to compensate for the natural oils lost during processing. In contrast, Jetfuel's cured resin vape cartridges use a time-intensive process that retains all of the natural terpenes, oils and cannabinoids, for a flavorful and aromatic product that provides a rich, synergistic effect. The hardware also leverages food-grade housing and medical-grade stainless steel components to optimize vapor production and maximize safety from heavy metal leaching.
"We are now able to blend art with science in order to create small-batch quality at scale," says Chris Lane, Chief Marketing Officer of Gold Flora, who joined the company as a part of the 2022 acquisition of Airfield Supply Company. "Up until now, there has been a gap in the market, with the highest quality products only available in small quantities or priced out of reach for many cannabis consumers," he added. "We've taken everything we know about craft cultivation, along with our love of genetics, and created a premium, cured resin product that now can be within reach for all consumers throughout California."