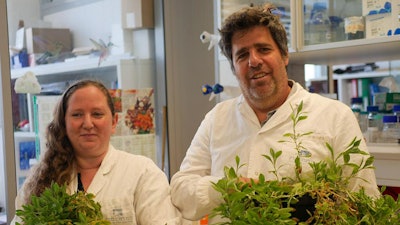 Xinteza
In an article published in scientific journal Nature Plants, and followed by a special review in the journal's News & Views, Weizmann Institute scientists revealed a step-by-step production of cannabinoids in the Helichrysum umbraculigerum plant.
The study, led by Dr. Shirley (Paula) Berman, in the Professor Asaph Aharoni Lab of the Weizmann Institute Plant and Environmental Sciences department, reveals a completely alternative non-cannabis plant-derived production system, which is capable of highly efficient end-to-end cannabinoid biosynthesis. This exclusive non-cannabis alternative novel IP was recently used by Xinteza for microbial cannabinoid bio-production on its newly developed proprietary platform.
This newly discovered alternative gene pool includes a novel prenyltransferase enzyme, featuring superior kinetics and improved flexibility to solve major bottlenecks hindering cannabinoid biosynthesis. Furthermore, as previously reported, this alternative non-cannabis plant-derived system also includes a novel subset of cannabinoid-glycosylation enzymes and genes, enabling the biosynthesis of true water-soluble cannabinoids for beverages, cosmetics and pharma.