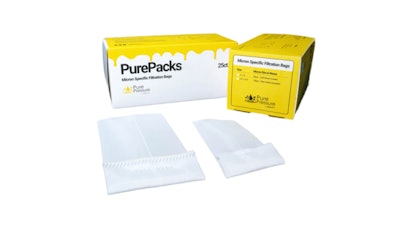 Agrify
Agrify announced the release of PurePacks, seamless, double filtration rosin bags, under solventless extraction brand PurePressure.
PurePressure, which Agrify acquired in January 2022, is a provider of solventless extraction and advanced ice water hash processing equipment for the cannabis and hemp industry. The release of PurePacks makes PurePressure the only company in the industry to offer a stitchless double bag that does not require flipping.
PurePacks are premium, double-layer rosin filter bags used with rosin presses for heat pressure filtration. As PurePressure's third rosin bag release, PurePacks are the result of years of research and development in response to customer feedback. PurePacks are available in five different sizes ranging from 2"x3" to 2.5"x9" and are sold in packs of 25, 100, or 200 on the PurePressure website. Prices start at $45/pack.
Composed of a small 25 μm bag inside a 120 μm bag, PurePacks rosin bags feature less wicking and a finer level of filtration in a single press. Double filtration eliminates the need to manually double bag and flip bags while reducing slippage and hydroplane risk. Before going to market, PurePacks were rigorously tested by industry leaders who observed up to a 4% yield increase in rosin production when pressing with PurePacks. Testing feedback prompted a Blowout Warranty for PurePacks: 30-day limited warranty that replaces rosin bags for customers who have a "blowout" rupture during pressing.
Lab Manager Sebastian Marquez noted, "At the end of the day, it's saving labor. The efficiency of not double bagging…if you're pressing all day, you're going to cut out that quarter of your day you spend preparing."
The monofilament yarn used to manufacture the PurePacks are composed of substances which comply with the Code of Federal Regulations (USA), Food and Drugs, Title 21, Part 177. Rather than traditional stitching, PurePacks utilize sonic welds, with the welded seam placed on top of the bag. This placement creates a full perimeter of mesh for filtration, reduces blow out rates along seams, reinforces seams to prevent ruptures if used as intended, decreases back slipping, and ensures filtration media has a more reliable micron rating.
"Our customers' needs are always front of mind. With the development of PurePacks, we directly addressed our customers' pain points to create a product that performs to their exacting standards," said Raymond Chang, Chairman and Chief Executive Officer of Agrify. "With the release of PurePacks, we continue our commitment to compliance and quality. Paired with Agrify's full suite of offerings, we continue to deliver on our mission to provide our customers with premium end to end solutions so they can bring safe, quality extracts to market while continuing to push our efforts to drive recurring consumable revenue. It's a win-win."