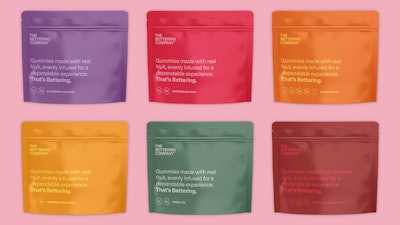 The Bettering Company
The Bettering Company, a new "luxury" cannabis edibles brand offering chef-curated edibles that use real fruits, herbs, teas, spices, jams and are consistently infused, today announces $6.7 million in funding, bringing the company's total funding to date over $11 million. Founded by Mark Cozzi and Drake Nickell, the company's initial seed round in 2022 included participation from seasoned early stage consumer packaged goods investors including Peter Rahal. The Bettering Company will launch sales of its branded THC-infused gummies in fall 2023 in dispensaries across Illinois.
The $11 million in total funding over the past 16 months includes experienced venture capital, cannabis sector and consumer packaged goods investors. The funds will be used to complete construction of The Bettering Company's new Rockford, Illinois facility with its commercial kitchen and to continue to build the company's management team focused on recruiting top-tier candidates in sales, marketing and food production.
The Bettering Company's gummies are developed from chef-crafted recipes, which are all vegan and gluten-free. The company's pouches are made with 35% post-recycled material and each gummy is individually wrapped for functionality.
Obsessed with precision, the company diligently focuses on production techniques that will result in consistent THC levels. The Bettering Company's products are being made in a 10,000-square-feet facility designed state-of-the-art kitchen – among the largest and newest facilities dedicated solely to edibles production in the United States. The Bettering Company seeks to solve a historical problem in the cannabis sector of inconsistently infused edibles, leaving consumers with hesitancy to consume cannabis in edible form. The Bettering Company has worked extensively with consultants having years of cannabis production experience to develop production techniques that will avoid issues facing many cannabis producers. Additionally, The Bettering Company is working with a testing lab that provides as accurate as possible testing data not only for THC levels but for other food characteristics as well.
The Bettering Company is proudly LGBTQ+ founded and employee-owned. The Bettering Company's products will be available for purchase at dispensaries in Illinois in fall 2023. The company intends to expand to other states including New Jersey and New York.