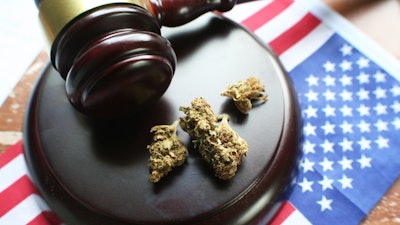 iStock
A bipartisan group of U.S. lawmakers has sent a letter to President Joe Biden, urging him to "deschedule" cannabis.
The letter, signed by lawmakers from both parties including Senators Cory Booker and Ron Wyden along with Congressman Matt Gaetz, described descheduling as a sort of stopgap while Congress works toward full cannabis legalization legislation.
"While we do not always agree on specific measures, we recognize across the aisle that continued federal prohibition and criminalization of marijuana does not reflect the will of the broader American electorate. It is time that your administration's agenda fully reflect this reality as well," the group wrote.
The lawmakers argued that cannabis does not belong in Schedule I of the Controlled Substances Act since it doesn't meet the criteria of being exceptionally dangerous and having no medical use.
"The decision to schedule marijuana was rooted in stigma rather than an evidence-based process, and it is time to fully remedy this wrong. Descheduling marijuana can uphold federal and state authority to regulate cannabis, while also authorizing states that wish to continue to prohibit cannabis production and sales the right to do so," they wrote.
The lawmakers said descheduling is a step toward federal legalization and that it will help promote research, legal job opportunities, public safety and not unjust incarceration, along with state regulation of cannabis production, taxation, and sales.