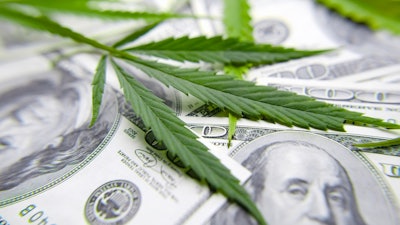 iStock
Mastercard's decision to ban the purchase of cannabis products using its debit cards will have widespread financial and safety impacts on an already struggling industry.
The company's move, which was first reported by Bloomberg, came as federal cannabis legalization still appears out of reach and cannabis banking legislation, such as the SAFE Act, remains stalled in Congress.
"In accordance with our policies, we instructed the financial institutions that offer payment services to cannabis merchants and connects them to Mastercard to terminate the activity," a Mastercard spokesperson told Reuters. "The federal government considers cannabis sales illegal, so these purchases are not allowed on our systems."
Wendy Bronfein, co-founder of vertically integrated Maryland operator Curio Wellness, called the news "extremely disappointing" but not surprising.
"The cannabis industry notoriously lacks access to traditional financial resources. With the stalling of the SAFE Banking Act in Congress, and now this Mastercard roadblock, it becomes increasingly apparent that something has to be done on the federal level to lift these constraints," she said in a statement. "The cannabis industry needs partners who help us move forward with banking, removal of 280e, and safe and secure payments. Ultimately, the only way financial institutions are going to be comfortable working with us is by getting the OK from the federal government. In the meantime, our retail stores are equipped with ATMs, so you can be sure that when you walk into Far & Dotter or Pharmkent, you'll be able to complete your transaction swiftly and safely."
Cash Is the Most Reliable Option
After the demise of cashless ATMs and, now, PIN debit solutions, the best and, assuredly, most compliant options will be cash and the Automated Clearing House (ACH) network, said Snowden Stieber, senior regulatory analyst at Simplifya, a provider of cannabis compliance software.
"Cash remains the top choice, but obviously carries many additional costs and challenges. ACH payments are still available to dispensaries, and will likely be the primary vehicle for B2B transactions within the industry, but will hardly be an easy option for consumers," he said.
Being limited to cash transactions will result in increased costs of doing business due to higher processing and security costs. Without electronic options, more cash will need to be handled, counted, stored, and deposited by hand, and will have greater risk of error. It also puts dispensaries at even greater risk of break-ins and robberies, crimes which are already prevalent in the market.
Dispensary employees who can only be paid in cash will also face increased risk of danger and theft, Stieber said. He added that with heightened risks to facilities, staff, and transport, further investments in security for storage and employees will possibly be needed at some locations.
Customers Are Used to Inconvenience
Card-based purchasing options are a fixture in nearly every retail environment, so requiring your customer base to first stop at an ATM or their institution and withdraw cash will always strike a harsh note for the cannabis customer experience, Steiber said.
"That said, one hallmark of the first decade of legal cannabis has been a peculiar shopping environment for everyone – from the beginning, both customers and businesses have been forced to jump through various hoops in order to conduct compliant transactions, so another decision or adjustment in 2023 is hardly going to shock the system," he added.
But Brett Gelfand, managing partner of CannaBIZ Collects, a cannabis collection agency, warned that limiting card transactions could potentially have a disastrous side effect for consumers. He said large merchants and banks restricting access to cannabis companies could be a major contributor to more and more cannabis companies being forced to extend trade credit terms, which could result in a major debt crisis.
The whole situation leaves cannabis retail businesses in an unenviable position.
"As customer-facing operations, business owners are constantly looking to update and improve their customers' experiences, but as businesses looking to participate in a financial system that is predominantly regulated by federal laws that see cannabis as a felony substance, they are hamstrung by the outdated rules and laws that govern the financial system," said Stieber. "Although cash may seem unsexy, and the costs of handling it can be great, it is currently the most reliable option for operators."
Payments Will Find a Way
Justin Kahn, CEO and co-founder of reepher, a behavior-based product offering coverage for cannabis consumption, said many operators may have seen Mastercard's decision coming and made moves toward safer methods of collecting payments from consumers.
"However, Mastercard's actions and the subsequent actions taken by the payment providers that serve the cannabis industry have caught many operators off guard. Operators have had their funds frozen and services turned off. It's just another nail in the coffin of cannabis payments," he said.
But Bob Craig, executive vice president of business development for Green Check Verified, painted a less dire picture for the future of cannabis payments while recognizing Mastercard's need to protect its brand, card issuers and merchants.
He said processors, sponsor banks, ISOs, and their legal and compliance teams are generally working very hard to find middle ground together. The myriad digital options in cannabis mirror tactics used in other emerging industries, but service providers need approved solutions from the associations including a clear Merchant Classification Code (MCC) for cannabis.
"Payments are like water, they find a way," Craig said.