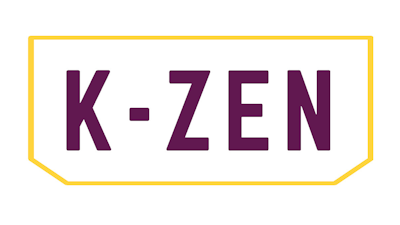 Founded in 2018, K-Zen Beverages is a maker of cannabis-infused drinks with its first product line set to launch this summer. This week, the company announced that it has received $5 million in seed funding from early-stage global venture capital firm DCM.
The money will be used to invest in continuous product innovation, partner with key retailers, and build great brands that address changing consumer needs.
This marks DCM's second investment in cannabis after Eaze, the on-demand cannabis delivery platform, with additional investments in the segment expected later this year.
The company will share more about its growth plans at CannTech, DCM's inaugural Cannabis Technology Summit, which gathers technology companies, entrepreneurs and investors interested in cannabis.
According to Canaccord Genuity, the market for marijuana-infused beverages could hit $600 million in the US by 2022.
Revenue from cannabis beverages could outpace the general demand for cannabis products by over two times, growing from 6% to 20% of the market for marijuana edibles by 2022, according to Canaccord analyst, Bobby Burleson.
K-Zen was founded in San Francisco by executives from the food and beverage industry, with the mission to extend the benefits of cannabis beverages to all people. The team brings a unique set of brand marketing and category management expertise that has helped both re-ignite and mainstream iconic food brands that will prove to be invaluable in launching a startup in this emerging industry.
Co-founder and co-CEO, Judy Yee, has spent more than 20 years driving product innovation and consumer demand in the food and beverage industry, working to understand consumers, why they care and designing products that best meet their needs. She was an early pioneer in expanding the consumer adoption and accessibility of organic food as Chief Marketing Officer at Earthbound Farm and has led successful marketing and innovation initiatives at top CPG companies Crystal Geyser Water Company, Safeway, Chiquita Brands, Nestle, and The Clorox Company.
"Consumer demand has driven exponential growth in new and novel beverage categories like kombucha, flavored sparkling waters, and functional teas," said Judy Yee. "Cannabis beverages are an obvious extension of this industry-moving consumer trend. We look forward to spearheading the same explosion in cannabis beverages that we've seen with past hot beverage trends in the grocery aisles."
Co-founder and co-CEO, Soon Yu, brings a wealth of branding expertise to the table as an expert in innovation and design. His book, Iconic Advantage, offers deeper insights on establishing timeless distinction and relevance and is foundational for his work in helping to build the K-Zen brand. In addition to overseeing advertising and product development programs at Chiquita Brands and The Clorox Company, he served as the Global Vice President of Innovation and Officer at VF Corporation where he created a $2 billion innovation pipeline, established three global innovation centers, and initiated industry-leading design best practices.
"Our mission is to grow cannabis-infused drinks as the main form of edibles in the cannabis industry," said Soon Yu. "In addition to delivering reliable and great tasting products, K-Zen intends to lead the charge in setting new industry standards around the way cannabis-infused drinks are consumed."
Following the legalization of recreational cannabis in Colorado in 2014, DCM became the first venture fund on Sand Hill Road to invest in the cannabis industry with their seed round investment in Eaze. Today, 34 states (including DC) have legalized medical or recreational adult-use cannabis, representing more than 50% of the US population, and the industry is valued at $10.4 billion dollars.