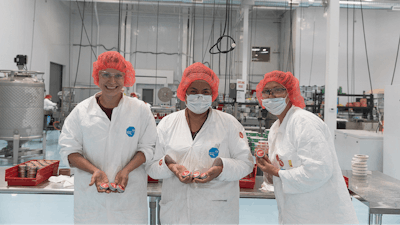 Lazarus Naturals
PORTLAND, Ore. – Lazarus Naturals is one of the Pacific Northwest's largest hemp-derived CBD producers. Last week, the company earned Current Good Manufacturing Practices (cGMP) certification for its new 40,000-square-foot manufacturing facility. The company had to pass a third-party audit to attain the certification.
The certification signals regulatory compliance for safety in design, monitoring and control of manufacturing processes and facilities.
In the new facility, Lazarus will be able to triple production of CBD tinctures, topical balms, massage oils, coconut oil and pet products in 2020. The company produces CBD from hemp grown on its farms in Central Oregon, allowing it to own its manufacturing process from seed to shelf to ensure both the lowest cost per milligram pricing and total oversight of the quality and safety of its products.
Each batch of finished product is third-party tested for potency, purity, heavy metal and pesticide residues.
Lazarus also implemented a $20 minimum wage for all hourly employees. In Oregon, minimum wage is $11.25/hr. In Washington, it is up to $12.00/hr.
The company has about 150 employees. Recent new hires include CFO Rory Tipton, CMO Nicki Briggs and Vice President of Sales and Distribution Bill Germano.
The company is also in the process of acquiring additional acreage to grow its hemp to meet growing demand and is in the process of transitioning its land to organic.
Lazarus expects to earn USDA organic certification by 2021, making it one of the first CBD companies to do so.