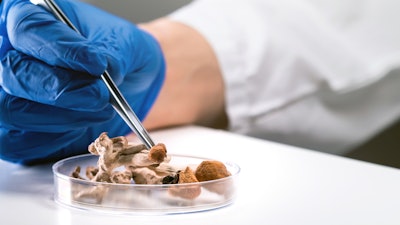 iStock
Core One Labs has entered into a Letter of Intent with Medelys Laboratories International for the purpose of manufacturing the company's proprietary psychedelic active pharmaceutical ingredient (API) products for Core One and its subsidiaries.
Under the manufacturing arrangement, it is intended that Medelys will develop and manufacture GMP-compliant patent-pending API-grade psychedelic compounds at a commercial scale for Core One by using the company's proprietary intellectual property for the production of biosynthetic and synthetic psilocybin developed by Vocan Biotechnologies and Awakened Biosciences, which are both wholly owned subsidiaries of Core One.
Once the company's API-grade psilocybin is produced at a commercial scale, through Medelys GMP facility, it will have the ability to contribute to the psychedelic market's growing demand for safe and high-grade psilocybin and possibly enable revenue generation to further fuel the Company's long-term growth.
"A partnership with Medleys is a significant development for Core One Labs as it will position the Company to produce psychedelic compounds at large scales, as well as develop delivery methods for these compounds to patients. By utilizing these GMP manufacturing facilities, it will allow significant synergies between Core One's subsidiaries involved in psychedelic production methods, drug development, as well as its network of medical clinics. This major step forward could position Core One as a major distributor of pharma-grade psychedelic compounds," said Joel Shacker, Core One Labs CEO.