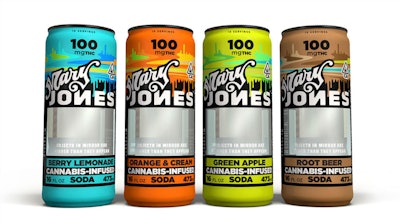 Jones Soda
Jones Soda said it has seen solid growth from Mary Jones, its cannabis beverage brand, since early last year.
The company reported second-quarter earnings this week and said $400,000 of its $4.8 million in quarterly revenue came from Mary Jones.
"Turning to Mary Jones, our revenues from cannabis products doubled to approximately $400,000 in Q2 2023 from $200,000 in Q1 2022. During the second quarter of 2023, we continued to grow our product portfolio with the addition of two new flavors in two new formats. We're also pleased to report that we remain on track with our footprint expansion as we expect to be fully operational in three new states by the end of the year. We believe we have only begun to scratch the surface within the cannabis industry, and we are highly confident in our ability to unlock the significant upside we see in this business to further bolster our consolidated financial performance," said CEO David Knight.
Podcast: Bohb Blair: Mary Jones Wins on Flavor
Jones Soda officially debuted its cannabis beverage brand last year. Since then it has expanded into new markets including Michigan and Nevada, and introduced new flavors including cola and grape.