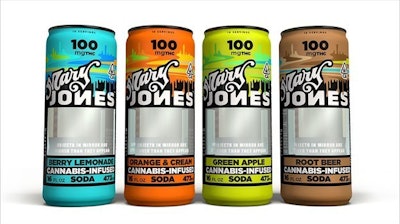 Mary Jones
Jones Soda today announced an agreement to expand distribution of its Mary Jones cannabis-infused beverage brand to Michigan and Nevada.
The Mary Jones line debuted last June in California and is slated to launch in Washington State in Q2. The company expects to eventually enter all recreational-use markets.
According to the company, Mary Jones is the top seller in the cannabis-infused carbonated beverage category in California. The line is carried in more than 275 dispensaries. Retail adoption has been so quick, that Mary Jones has become the fastest new cannabis brand launch in the state.
Mary Jones manufacturing and distribution in Michigan and Nevada will be handled by Maxxx Labs, a cannabis contract manufacturing and distribution company specializing in beverage manufacturing.
The company operates licensed cannabis manufacturing facilities in both states as well as licensed dispensaries in Michigan, with planned expansion into Ohio, Florida and Texas.
The new agreement brings Mary Jones into two states that are currently expanding their cannabis footprints. Michigan voters legalized adult-use cannabis in 2018. The state has more than 1,050 cannabis sales locations throughout the state and is set to open the first Detroit dispensaries this year following the recent award of 33 licenses out of the 160 permitted under the city's recreational cannabis ordinance.
Nevada legalized recreational cannabis use in 2017 and now ranks second in the nation in cannabis sales per capita. The state is slated to distribute licenses this year for cannabis consumption lounges that are expected to create a marijuana zone in Las Vegas.
Mary Jones will launch in both states this summer with the full portfolio of current products, including Mary Jones 10 mg and 100 mg THC-infused sodas and THC-infused syrups.
Michigan and Nevada will join California and Washington in the launch of Mary Jones edibles in multiple flavors and formats, also this summer.
All products will be available in a variety of flavors that taste exactly like the company's mainline craft sodas, some limited-edition flavors will be added seasonally.
The brand's 10 mg sodas are packaged in single-serving 12 oz glass bottles sold in 4-pack carriers. The 100 mg sodas come in 16 oz resealable, child-resistant, multi-serve cans designed for paced consumption and/or social sharing with friends. The syrups come in 4 fl glass bottles containing 100 mg of THC for multiple servings that can be added to any soda, used as a cocktail mixer, sipped straight from the bottle, drizzled over desserts or used to infuse favorite recipes.
The first Michigan and Nevada dispensaries to carry Mary Jones products will be announced on www.gomaryjones.com shortly before launch.