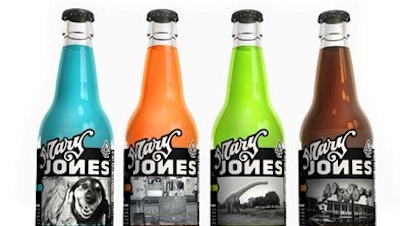 Jones Soda
Jones Soda is entering a whole new category with the launch of Mary Jones brand of cannabis-infused sodas.
Mary Jones 10mg cannabis-infused sodas are available in root beer, berry lemonade, green apple and orange & cream flavors. Every flavor tastes like the Jones Soda original, which the company attributes to its "flavor scientists" adapting their recipes for cannabis.
The new Mary Jones products also continue Jones Soda's tradition of using photographs submitted by consumers on their bottle labels and printing quotes from fans under the bottle caps.
Other Mary Jones products scheduled for launch in California later this year include a 100mg cannabis-infused soda packaged in a 16 oz, 10-serving can; a 1000mg syrup cannabis tincture designed for mixing with other drinks, using as a food topping or sipping; carbonated candy 2.5mg tablets for microdoses; and 5mg cannabis-infused gummies shaped like miniature Jones soda bottles with a mini-four-pack carrier for a downloadable DIY project. Plans are underway for additional products as well as expansion into other legal adult-use states.
"Jones Soda is a legendary brand built from bold flavors and doing bold things," said Bohb Blair, Chief Brand Officer, Mary Jones Cannabis Co. and CMO, Jones Soda Co. "Whether you're a canna-newbie or a cannaseur, our sodas are the most exciting flavors in cannabis today, and our product roadmap will keep our fans delighted by what's to come."
In California, Mary Jones has partnered with Kiva Sales and Service (KSS), distribution and sales; Tinley Beverage Company, cannabis beverage manufacturing; and SōRSE Technology, emulsion and formulation.