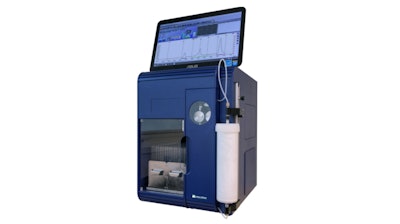 Interchim
MPLC replaces winterization and distillation with a 15 minute process. The majority of fungicides and pesticides are also removed.
Process up to 6.0 kg/hr with the Interchim 800 and 1.6 kg/hr with the 420 — 80% potency with 80% yield is achieved with ease and reproducibility.
In one example, a 400-gram sample spiked with fungicides and pesticides was loaded on the Interchim 420. At four minutes, the UV diode array detector detected the cannabinoids and collected a 1.8 liter fraction. The fraction was rotavapped to a mass of 318 grams with 81.84% total cannabinoid content.
For more, visit http://interchiminc.com.