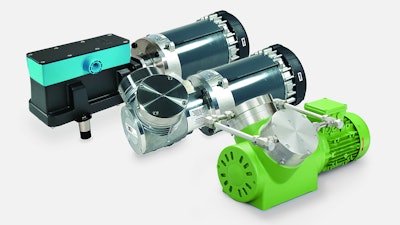 KNF (Trenton, NJ) offers a range of clean, quiet liquid and gas pumps for safe solvent transfer and reclamation in botanical extraction processes.
Botanical extraction systems rely on a variety of hydrocarbon solvents—such as ethanol, propane, and butane—to achieve the highest-quality end product. Extra care must be taken in handling these solvents due to their flammable and explosive nature.
KNF offers pumps with optional explosion-proof motors compliant with NEC Class 1 hazardous area locations (Div 1 - Groups C&D, Div 2 - Groups ABCD). ATEX and other protection levels are also available. Additional features include:
Non-contaminating, oil-free, maintenance-free designs with long service life for high uptime.
Self-priming, with the ability to run dry without damage.
UL/CSA and IP 54 approval.
Optimized direct liquid and pneumatic (vacuum over liquid) solutions available through engineer-to-engineer consultation.
Options include alternative head configurations, gas ballast and dropout traps to handle wet vapors, motor selections, and various levels of gas leak tightness and leak testing.
Chemically-resistant materials and food-grade wetted materials are available.
For more information, visit www.knf.com/en/us/extraction.