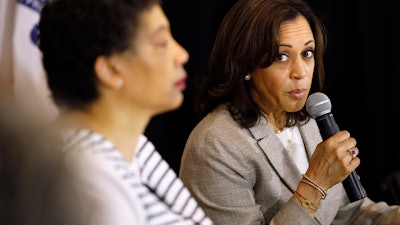 AP Photo/Charlie Neibergall
Two Democratic lawmakers on Tuesday introduced legislation to decriminalize marijuana under federal law and establish a sales tax program designed to help bolster the industry.

Rep. Jerry Nadler of New York, the chairman of the House Judiciary Committee, announced the Marijuana Opportunity Reinvestment and Expungement Act with presidential candidate and California Sen. Kamala Harris. They said the measure would remove the drug from the nation's list of controlled substances and enable states to establish their own regulations.

It would also authorize a 5% sales tax on marijuana and marijuana products, whose proceeds would partly be used to fund grant programs for small businesses and prospective employees in the cannabis industry — particularly for those in disadvantaged communities the authors said were more likely to be adversely impacted by the nation's drug policies. The fund created by the proposed sales tax would also be used to provide social services for affected individuals.

"It's past time to right this wrong nationwide and work to view marijuana use as an issue of personal choice and public health, not criminal behavior," Nadler said in the statement.

In addition, the MORE Act would require federal courts to expunge prior convictions for marijuana-related offenses and direct courts to hold re-sentencing hearings for those currently penalized for those crimes.

The legislation would also establish non-discrimination protections for those with marijuana-related convictions and open the industry to funding from the Small Business Administration.

"As marijuana becomes legal across the country, we must make sure everyone — especially communities of color that have been disproportionately impacted by the War on Drugs — has a real opportunity to participate in this growing industry," Harris said.

Although the measure faces dim prospects in Congress, industry groups hailed the bill's introduction as a sign of how perceptions of cannabis in the nation's capital are shifting.

"We still have a long way to go before we see sensible cannabis policies enacted at the federal level, but this shows that the conversation has shifted from if to how," National Cannabis Industry Association Executive Director Aaron Smith said in a statement.