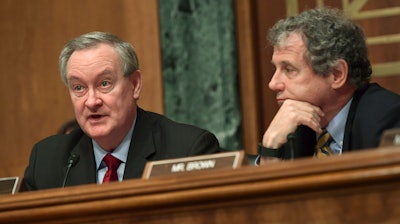 AP Photo/Susan Walsh
A Senate committee this week held its first-ever hearing on financial regulation of the cannabis industry.

The chamber's banking committee heard testimony Tuesday on the SAFE Act, which would restrict federal regulators from taking actions against banks for providing services or loans to cannabis businesses.

Supporters contend current federal law limits those businesses' ability to access the U.S. financial system and forces them to operate using large amounts of cash. The hearing, according to reports, gave no indication that the committee's chairman, Sen. Mike Crapo, R-Idaho, would resist moving the legislation forward.

The House's banking committee endorsed the SAFE Act in March, and an industry group expressed hope that the Senate hearing could allow reform to move forward this year.

"Access to banking for the cannabis industry is necessary for public safety, transparency, and equal access to this burgeoning industry," said Aaron Smith of the National Cannabis Industry Association.