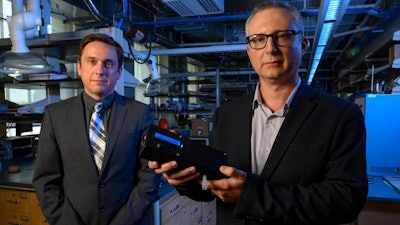 University of Pittsburgh
As support grows for recreational-use marijuana legalization, law enforcement continues to look for a reliable tool, like a breathalyzer, to help enforce DUI laws.
In March 2019, California-based Hound Labs successfully completed a clinical trial of what they dubbed the "world's first breathalyzer for marijuana," but the findings were not peer-reviewed or published, and they conducted the test on a small sample size.
Today, an interdisciplinary team from the Department of Chemistry and the Swanson School of Engineering debuted a new breathalyzer device that can measure the amount of tetrahydrocannabinol (THC) in the user's breath. The researchers published their work in the journal ACS Sensors.
Current drug testing can't be completed in the field because it relies on blood, hair, or urine samples. They also can only determine if a user has recently inhaled the drug, not if they are currently under the influence.
The breathalyzer prototype uses carbon nanotubes that are 100,000 times smaller than a human hair. The THC molecule binds to the surface of the nanotubes and changes their electrical properties. The breathalyzer analyzes the change in electrical current to determine if THC is present.
Right now, mass spectrometry is considered the gold standard for detection. These nanotechnology sensors detect THC at comparable and even superior levels.
According to Sean Hwang, the paper's lead author, the semiconductor carbon nanotubes that they use weren't available until recently. The team used AI to 'teach' the breathalyzer to recognize the presence of THC based on the electrical current's recovery time, even when other substances, including alcohol, are present.
The prototype looks similar to an alcohol breathalyzer, including a plastic casing, protruding mouthpiece, and digital display.
The researchers plan to continue testing but hope to begin manufacturing soon.