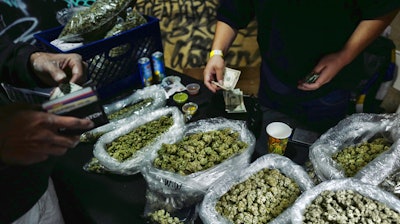 AP Photo/Richard Vogel, File
Four states could soon join the ranks of those permitting recreational use of marijuana — if their voters sign off.
CNN outlined the measures on the November ballot that would alter their respective states' marijuana regulations, including Montana, Arizona — which narrowly rejected a similar measure four years ago — and New Jersey, which put the question before voters after legislative efforts stalled.
South Dakota voters, meanwhile, will consider separate measures to authorize medical use of marijuana and to legalize recreational use.
If all four states approve the measures, the number of states allowing recreational marijuana would climb to 15.
In addition, Mississippi could become the 34th state to approve medical marijuana — although voters must choose between the measure offered through a citizen petition and a stricter alternative floated by the state legislature.