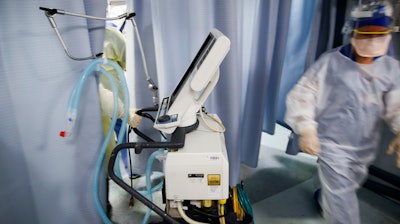 AP Photo/John Minchillo
The chemical responsible for inducing a high in marijuana users could also help prevent a potentially deadly complication in COVID-19 patients, a series of recent studies shows.

Dr. Prakash Nagarkatti of the University of South Carolina's School of Medicine told The State newspaper that THC promoted healthy lung bacteria while preventing a harmful immune response in mice.

Over dozens of experiments across three studies, USC researchers gave mice a toxin designed to trigger the immune reaction that causes Acute Respiratory Distress Syndrome, then injected the mice with THC. USC scientists said the THC promoted beneficial bacteria, which suppressed inflammation and prevented lung damage.

Nagarkatti told the paper that 100% of the mice in the studies survived.

ARDS, researchers said in a statement, occurs when an immune response to a bacterial toxin produces "massive amounts of cytokines," which can damage the lungs and other organs. There is currently no approved treatment, and the condition is often fatal.

"The underlying mechanism is your immune system goes haywire and starts destroying your lungs and all your other organs," Nagarkatti told The State.

Patients with severe cases of COVID-19 can develop the condition, and the study raised "the exciting possibility of using cannabinoids to treat ARDS seen in COVID-19 patients."

Although USC researchers argued the results made investigating THC in clinical trials "critical," Nagarkatti stressed that the studies should not be interpreted to mean "marijuana is good for COVID-19."

"If you start using THC early on it might worsen the effect because it suppresses the immune system," he told the paper.