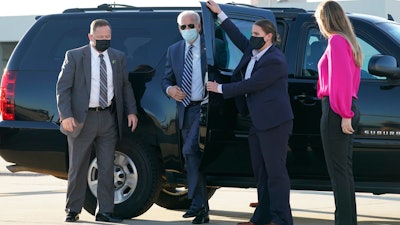 AP Photo/Carolyn Kaster
The fate of efforts to remove marijuana from the nation's list of controlled substances could hinge on the outcome of next month's elections.
Should Democrats take over the White House and Senate — and hold their majority in the House — the prospects for legalization under federal law could be closer to reality than ever before.
CNBC noted this week that although former Vice President Joe Biden's presidential campaign stopped short of backing full legalization, the ticket has endorsed easing current federal marijuana regulations regarding medical use, criminal penalties and its controlled substances classification.
The Biden campaign also supports expunging convictions for cannabis-related offenses and allowing states to set their own marijuana policies.
Legislation to decriminalize marijuana under federal law, meanwhile, appears to have some momentum in Congress. The House was slated to vote on the MORE Act — which would also establish a sales tax program to bolster the legal marijuana sector — this fall before it postponed was amid a push for more federal COVID-19 aid.
The measure appears likely to be considered after the election. Sen. Kamala Harris, D-Calif. — and the party's vice presidential nominee — was an author of the measure.
Several states, meanwhile, have their own cannabis measures on the ballot next month. Voters in Arizona, New Jersey, Montana and South Dakota could take the number of states with legalized marijuana up to 15 overall.