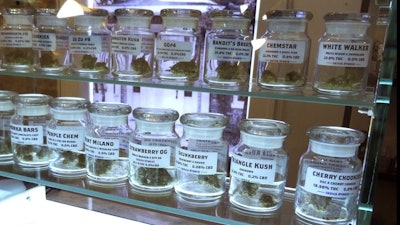 AP Photo/David Eggert
Recreational cannabis sales in Michigan added nearly $73 million to the state's coffers in their first year, state records show.
The state Department of Licensing and Regulatory Affairs detailed sales totals between Dec. 1, 2019 — when recreational marijuana officially became legal in Michigan — and Nov. 22. The Oakland Press reports that the nearly 200 currently licensed cannabis stores in Michigan sold nearly $440 million worth of products over that span, which are subject to 16.6% state excise and sales taxes.
Although the additional revenue is welcome at a time when state and local budgets are stretched by the pandemic and its subsequent economic toll, many of the excise tax proceeds are already allocated under the measure approved by Michigan voters in 2018, the Press reports.
The funding will pay for marijuana regulation and provide $20 million per year, for at least two years, to research veterans' medical issues and suicide prevention. The remainder can go to local governments that are home to cannabis businesses, as well as to highway infrastructure and public school funding.
The state statistics showed that sales generally climbed over the industry's first 12 months — they grew from $1.6 million in the first week to more than $13.5 million for the week of Nov. 16-22. Aug. 31 through Sept. 6 was the top sales week at more than $16 million, the Press noted, while the week of April 6 — which coincided with an extension of the state's stay-home order — saw a 51% week-over-week increase in sales.