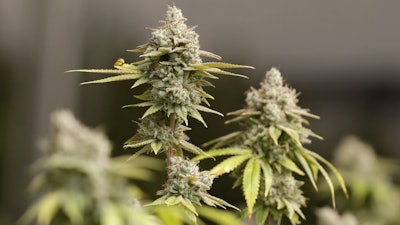 AP Photo/Tony Dejak
Arizona's relatively limited medical marijuana market has allowed a few growers to thrive by providing high-end cannabis amid soaring demand.
The state authorized medical cannabis more than a decade ago, but the Arizona Republic notes that regulators have only issued 130 licenses for dispensaries. Those licenses, however, can be rented out by their owners — providing an easier path for entrepreneurs and an additional source of revenue for license holders.
Some of the rented cultivation licenses go to growers focused on the premium medical cannabis market.
"There are a lot of other growers who are good at what they do who didn't get their chance," Abundant Organics co-founder Jake Young, whose company operates under a license from marijuana giant Curaleaf, told the paper. "We got very lucky to get a chance to get a foot in the door."
The marijuana produced by Abundant Organics, Grow Sciences and other companies in the state, the paper reports, sells out quickly despite prices more twice as high as low-end competitors. Both companies are planning to expand, the report added.
The industry in Arizona, however, is about to see significant upheaval. Voters approved a referendum in November to legalize recreational marijuana in the state, and dispensaries could begin sales to the general public as soon as March.