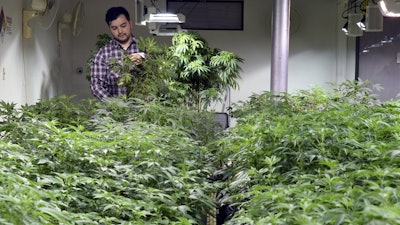 AP Photo/Thomas Peipert, File
Sales of recreational and medical marijuana in Colorado appear set to easily set a new annual record, according to newly released state data.
The state Department of Revenue said Tuesday that the cannabis sector took in $175 million in revenue in November, the Associated Press reports — good enough to surpass the $2 billion mark for the calendar year with a month to spare.
The monthly total, however, was down 12% compared to the previous month, the Denver Post noted. November's sales resulted in $32 million in taxes and fees collected by the state, the agency said.
Analysts predicted the coronavirus pandemic was likely to help the U.S. cannabis sector as states declared dispensaries to be "essential" businesses and consumers facing stay-home mandates stocked up on marijuana products.