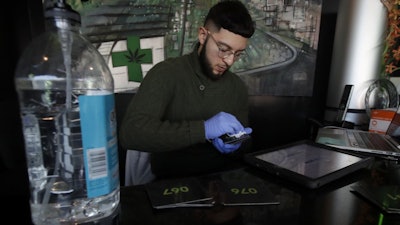 AP Photo/Jeff Chiu
Investment in dozens of cannabis technology companies is at its highest level in more than a year after the pandemic fueled increased demand for marijuana, new reports suggest.
Reuters, citing data from PitchBook and Crunchbase, found that the cannabis tech sector in North America saw the most private investment in at least 18 months in the first quarter of 2021.
The total includes a newly announced $200 million fundraising round from cannabis e-commerce platform Dutchie, an Oregon-based company backed by high-profile investors including former Starbucks CEO Howard Schultz, DoorDash co-founder Stanley Tang and Brooklyn Nets star Kevin Durant.
Dutchie's bid is one of the industry's largest venture capital campaigns to date; more than $2.5 billion has been invested in cannabis tech startups overall since 2018, with more than $4 billion raised in public investment to date through special purpose acquisition companies.
The cannabis tech sector — which comprises more than 90 companies in North America, according to Reuters' tally — includes firms that provide software and other high-tech solutions to producers still considered illegal by the U.S. government. They facilitate everything from e-commerce operations to cultivation management to home delivery services.
Publicly traded cannabis stocks were hit hard in 2019, but firms are seeing renewed interest as sales soared last year — up 45% in the U.S., according to one analysis — and the number of states where marijuana is legal continued to grow. But some investors are also reportedly concerned about the momentum toward legalization at the federal level in the U.S.
"We don't necessarily want things to go [fully] legal today because there's a lot of value in our companies, and we want more time to build," Lenore Kopko, a managing partner at cannabis-focused private equity firm Gotham Green told Reuters.