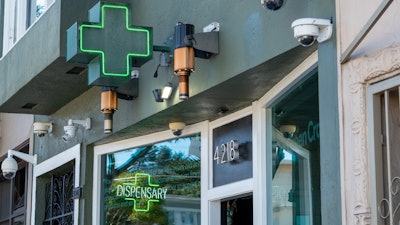 iStock
The owner of a suburban Detroit medical marijuana dispensary was indicted this week for allegedly concealing the business' revenue from the IRS.
Ryan Richmond of Bloomfield Hills, Michigan, was charged by a Detroit grand jury with tax evasion, attempting to obstruct internal revenue laws, making a false statement, and willful failure to file his own individual income tax return, the Department of Justice announced Thursday.
Richmond, the owner and operator of Relief Choices LLC in Warren, Michigan, allegedly used cash to pay the dispensary's operating expenses while routing customers' credit card payments through a third-party bank account "to conceal his actual business gross receipts from the IRS" from 2011 through at least 2014. He then allegedly lied to an IRS auditor about his role with Relief Choices in 2015 and 2016.
If convicted, he faces a maximum of five years in prison for each count of tax evasion and false statements, three years for obstruction of the IRS and one year for failing to file a tax return, along with additional supervised release, restitution and monetary penalties.