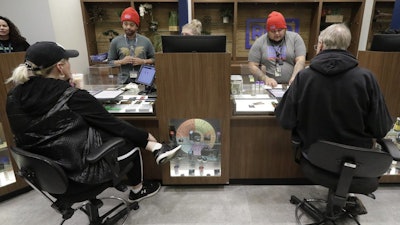 AP Photo/Nam Y. Huh
A Chicago-based cannabis company is reportedly facing a federal probe into its efforts to obtain cultivation and distribution licenses in several states.
The Chicago Tribune, citing unnamed sources, reports that investigators are examining campaign contributions and other moves made as part of a possible pay-to-play scheme by Green Thumb Industries.
No charges have been filed, and the paper reported that the source of the probe, the exact activities in question, and the timeline of the investigation remained unclear. But the Tribune noted that Green Thumb donated to numerous Illinois political campaigns in recent years and hired lobbyists and consultants linked to longtime House Speaker Michael Madigan, who resigned from the Legislature last month amid a federal corruption scandal. One lobbyist hired by Green Thumb, longtime Madigan ally Michael McClain, faces unrelated bribery corruption charges.
Green Thumb was one of the first companies licensed to grow medical marijuana in Illinois eight years ago; those license-holders received a head start on the state's recreational license process. The company is now a major U.S. cannabis producer with dozens of retail locations in 15 states.
A Green Thumb spokeswoman said the company was not aware of a federal probe.
"Green Thumb takes compliance very seriously and operates with the highest standards of ethical business conduct," Linda Marsicano said in a statement emailed to the Tribune.