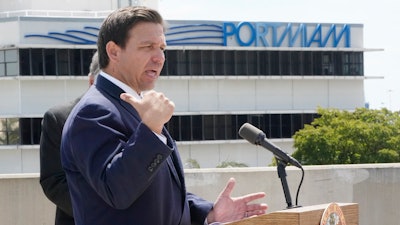 AP Photo/Wilfredo Lee
Florida's medical marijuana oversight office could receive millions in funding to bolster testing capabilities in the next state budget.
Politico reports that Gov. Ron DeSantis called for an additional $4 million in funding for the Florida Office of Medical Marijuana Use, with more than $3 million of that total to implement state quality control testing of marijuana flower, concentrates and edibles.
The state Health Department imposed testing rules some six years after Florida first approved low-THC medical marijuana in 2014, but marijuana providers currently submit their products to three private, state-certified labs. Lab officials suggested that marijuana companies can go "shopping for the lab results they want" under the current system.
They argued that the increased funding would benefit companies that are "doing the right thing" — and the industry as a whole.
"Now, it seems like they'll have the personnel to grow this industry," George Fernandez of Modern Canna Labs in Lakeland told the publication.
The remaining funding would go toward a call center, tracking software, and personnel to audit private lab results and enforce testing requirements.
Florida's medical marijuana program has grown rapidly, which prompted some lawmakers to attempt to impose strict limits on THC content in marijuana products in the state earlier this year. DeSantis, Politico noted, declined to support that effort last week.