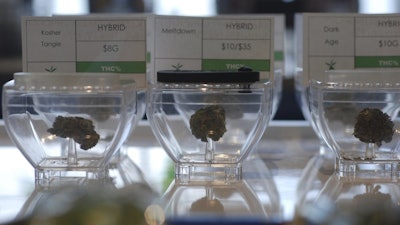 AP Photo/Morgan Lee, File
New Mexico on Tuesday issued proposed regulations that would govern the state's newly legal recreational marijuana industry.
The draft rules, according to the Associated Press, would allow producers to grow a maximum of 4,500 plants. Larger businesses, defined as growing more than 3,500 plants, would pay an annual fee of $22 per plant, while smaller growers would pay $18 per plant each year.
Operations of less than 200 plants would be defined as microbusinesses and regulated under a separate oversight program.
The state's cannabis businesses would be required to hold valid water rights and operate at least 300 feet from schools or daycares. Applicants would be required to disclose past criminal convictions — fraud, embezzlement and drug trafficking, among others, could reportedly be disqualifying — and local governments would have the authority to limit their locations and hours of operation.
New Mexico Regulation and Licensing Department will take public comments on the proposal until a public hearing scheduled for June 29. The agency said the rules would continue to be tweaked and improved.
"Today's proposed rules don't mean the conversation is over," DRL Secretary Linda Trujillo said in a statement.
The legalization bill, signed into law last fall, directs the state to begin recreational sales by next April and start issuing licenses by September. New Mexicans will be able to possess up to 2 ounces of marijuana as of late June, and will be able to grow up to six plants in their homes by April.