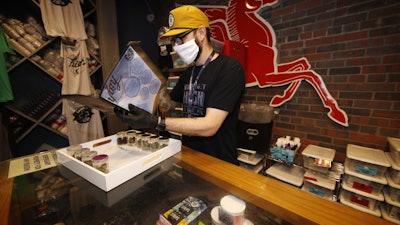 AP Photo/David Zalubowski
Recently released data from a cannabis staffing firm suggests that the sector is the fastest-growing industry in the U.S.
The third edition of CannabizTeam's Cannabis Industry Salary Guide, citing data from Leafly, found that the nation's cannabis sector accounts for about 321,000 full-time jobs, a 32% increase from the then-record employment levels of 2020.
The analysis found significant activity in investment and hiring as more and more states legalize marijuana for medical and recreational use. The U.S. is experiencing a tight labor market overall, but the report said workers are particularly hard to come by in the rapidly growing cannabis sector.
CannabizTeam CEO Liesl Bernard said the staffing and executive search firm is seeing a "red hot" job market at the beginning of the year's second quarter.
Salaries are up "across the board," the report said, including double-digit increases for experienced managers and C-suite executives. Some large, multi-state operators, meanwhile, lured new talent away from some of the world's most well-known companies across a wide range of industries, including Bayer, Pfizer, Proctor and Gamble, John Deere, Google and Tesla.
"The cannabis industry proved its strength and resiliency in 2020 and enters 2021 as the fastest-growing industry in the United States," Bernard said.
The analysis expects the U.S. cannabis sector to generate $35 billion in annual sales and support a half-million full-time jobs by 2024.