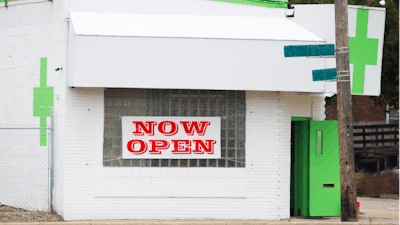 iStock
A Washington state cannabis shop could be fined up to $250 per day for opening in a city that prohibits its business.
The Longview Daily News reports that 20 After 4 recently began selling cannabis at a location in Woodland, Washington, a small city north of Portland, Oregon, that has banned the sale of recreational marijuana.
Washington became the first U.S. state to legalize recreational use of marijuana in 2012, but municipalities can choose to limit where marijuana business can operate or ban them outright. Woodland issued a moratorium on cannabis retailers in 2014 and formally prohibited them last year, although other cannabis businesses — including growers and processors — are still allowed.
The city's community development director told the Daily News that the operator of 20 After 4 could be fined between $50 to $250 per day for violating the city's ordinance, along with a potential penalty of another $25 per day for operating without a business license. Fines had not started as of early this week because the shop had not been formally notified.
State cannabis regulators approved a license for the business in 2017 and authorized its move to Woodland last month, but an agency spokeswoman told the paper that those would not override the city's ban.
The city received two complaints about the shop as of Wednesday, according to the report.