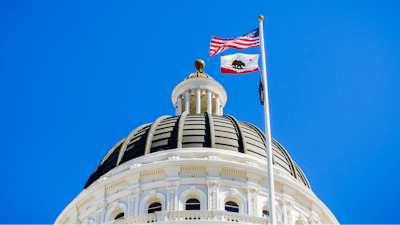 iStock
California is poised to provide tens of millions of dollars to help its cannabis businesses complete state-mandated environmental reviews.
The state Legislature on Monday approved $100 million in grant funding for 17 cities and counties to help cannabis businesses meet the requirements ahead of a January deadline, the Los Angeles Times reports. Proponents said the measure represented an important step toward bolstering the state's cannabis industry and combatting its large, resilient illegal market.
"Absent this extension, it is possible that a significant number of these licensees could fall out of the legal cannabis system," Gov. Gavin Newsom's administration wrote when proposing the budget legislation.
California's recreational marijuana policy required cannabis businesses to transition from an initial, provisional operating license to a permanent, annually renewed one. That process requires a comprehensive environmental review and remediation plan in accordance with the California Environmental Quality Act.
The Times reported that the CEQA review is a costly, time-consuming process, and that as of April, more than 8% of the state's cannabis businesses had still not completed the transition despite lawmakers twice pushing back the original deadline. Lawmakers are currently debating another six-month extension in a separate bill.
Environmental groups have criticized the measures and suggested that the state was failing to protect communities and falling short of its promises to voters.
The industry, meanwhile, welcomed the grants but warned that businesses could still face shutdowns if local government regulations, funding and staffing continue to lag.
"It is a significant amount of money, but I don't know that it actually answers the problem of provisional licenses making it through CEQA analysis in a timely manner to get an annual license," United Cannabis Business Association President Jerred Kiloh told the Times.