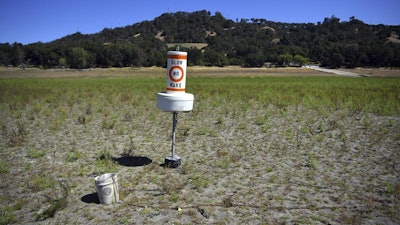 AP Photo/Josh Edelson, File
As drought conditions grip the western U.S., water supplies are an increasingly appealing target for thieves in California.
And a new report suggests that most of the water stolen in the state is destined for a single market: its vast network of illegal marijuana growing operations.
State authorities have received 125 complaints of water theft so far this year, according to CalMatters, which is double the amount reported 10 years ago. And that total doesn't include incidents that were reported to local officials or water authorities.
Thieves utilize numerous strategies to steal water, from tapping fire hydrants or underground pipes to breaking into water storage facilities or even backing water trucks directly up to lakes and rivers. Their haul is then largely driven to black market marijuana growers.
Cannabis, the report notes, doesn't require a great deal of water relative to other crops, but large, illegal operations tend to be located in remote areas — which, in California, generally means the desert. And the state is still home to thousands of illegal grows and a thriving black market five years after legalizing marijuana.
The spike in thefts and the increasing drought threat has resulted in a battle of wits between thieves and authorities. Water officials have locked hydrants and sharply restricted access to water stations, while law enforcement deployed additional patrols and surveillance technology to hunt for suspicious water tankers. Criminals responded by hauling large water containers in pickups or rental trucks instead.
One farmer suggested that the situation has devolved into "anarchy," and that operators of the illegal sites use threats and intimidation to deter complaints from neighbors.
Water regulators, meanwhile, noted that the state is ill-equipped to deal with the crisis. Penalties for illegally growing marijuana and stealing water, respectively, are minimal, and judges are often hesitant to authorize search warrants for what is now a low-level crime in California.
"We're here to provide water to this community," Bighorn-Desert View Water Agency General Manager Marina West told CalMatters. "We're not here to provide cheap water to an illegal business that's making millions of dollars."