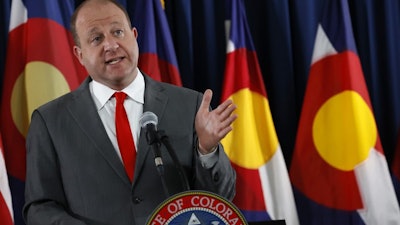 AP Photo/David Zalubowski
The first state to legalize recreational marijuana in the U.S. established a new agency to promote entrepreneurship, job creation and social equity in the industry.
Colorado Gov. Jared Polis on Wednesday officially launched the state's Cannabis Business Office, which was authorized by legislation passed in March. The office, housed within the state Office of Economic Development and International Trade's Business Support and Rural Prosperity division, is funded by receipts from state cannabis taxes.
Polis said the CBO would prioritize businesses with social equity licenses amid criticism — both in Colorado and nationwide — of a lack of diversity in the cannabis industry. Licensees would be able to receive technical assistance from the office, loans for seed capital and business expenses, and grants targeting innovation and job creation. The financing programs, the Denver Post noted, could help cannabis companies who have difficulty working with banks due to the continued federal ban on marijuana.
"The Cannabis Business Office will provide novel and ambitious programming to provide more equitable opportunity in the cannabis industry," Tristan Watkins, the state's first Cannabis Program Manager, said in the announcement. "As the office expands, we are confident it will further solidify Colorado as the leader in the nation's cannabis industry."