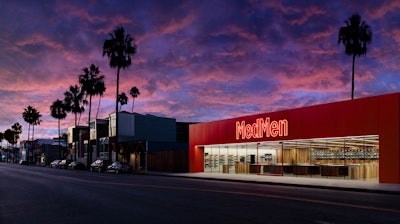 MedMen/BusinessWire
Canadian cannabis company Tilray hopes a deal with a Southern California counterpart will provide it with a path to the legal U.S. marijuana market if and when it begins.
Tilray and its partners on Tuesday announced an agreement to purchase the convertible debt of MedMen in a transaction worth $166 million. Reuters reported that although Tilray, as a foreign company, is restricted from directly owning a U.S.-based cannabis company, it could convert the newly acquired convertible debt and warrants into MedMen shares — and a "significant equity position" in a major U.S. marijuana producer — if the drug is legalized at the federal level.
"The investment we are announcing in MedMen securities today, one of the most recognized brands in the $80 billion U.S. cannabis market, is a critical step towards delivering on our objective as we work to enable Tilray to lead the U.S. market when legalization allows," Tilray Chairman and CEO Irwin Simon said in a statement.
MedMen holds 21 licenses and operates 25 retail cannabis locations across the U.S. — including major metropolitan areas such as Boston, Chicago, Las Vegas, Los Angeles and the Bay Area — but the company has struggled amid financial losses and scandals that prompted lawsuits from investors and former executives.
MedMen executives said they had worked diligently over the past 18 months to turn around what was once the U.S.'s top cannabis company.
"We are grateful to our stakeholders for their patience and support as we worked to fix the business and rebuild trust and credibility," added MedMen Chairman and CEO Tom Lynch. "We believe that patience has paid off, as these efforts have succeeded in attracting partners who share our vision for building the world's most powerful cannabis retail brand."