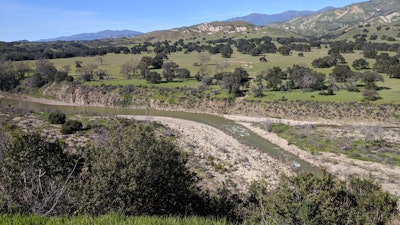 iStock
A California cannabis grower will pay $55,000 to settle allegations that it violated state fish and game law.
Santa Barbara County prosecutors said the agreement with Vertical Companies would resolve two civil actions regarding its operations in Lompoc, California. The company allegedly graded a road through the Santa Ynez River and prepared five acres in the river channel for cannabis cultivation, including the installation of hoop houses, underground pipes, an electric generator and containers of fertilizer, herbicides and pesticides.
The violations contributed to streambed alteration and water pollution, prosecutors alleged.
Vertical Companies will pay $50,000 in civil penalties to state and local authorities, as well as $5,000 to reimburse costs to the California Department of Fish and Wildlife.
In addition, the owner of the property -- a nonprofit named Divine Mercy Inc. -- will pay more than $5,000 and has agreed to perform environmental remediation and restoration.
"Although these violations were serious and caused environmental harm, we are grateful for the cooperation of Vertical Companies and Divine Mercy during our investigation," Santa Barbara County District Attorney Joyce Dudley said in the announcement.