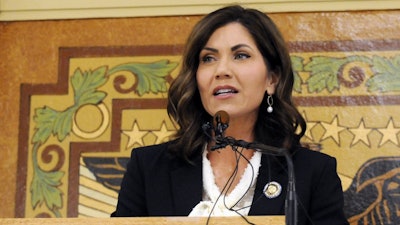 AP Photo/James Nord, File
Last fall, South Dakota joined a wave of states whose voters endorsed recreational marijuana.
But while legalized cannabis advances in Arizona, New Jersey and even neighboring Montana, things are currently at a standstill in South Dakota as its governor wages an ongoing legal and political battle against an issue that won the backing of nearly 55% of voters.
Republican Gov. Kristi Noem is backing a lawsuit challenging the 2020 ballot initiative on constitutional grounds, South Dakota Public Broadcasting reports. A state circuit court judge struck down the amendment in February, and the matter remains pending before the South Dakota Supreme Court.
That means that, for the time being, the lands of the Flandreau Santee Sioux Tribe, near the Minnesota border, are the only place marijuana can be purchased legally in the state.
And the issue, according to the report, could have political implications for Noem, who has generated national headlines during a contentious first term in office.