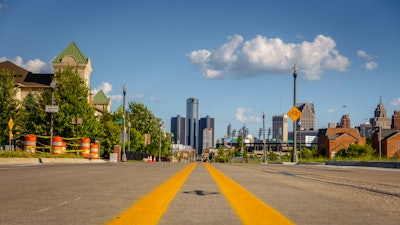 iStock
A cannabis dispensary in Detroit has been razed to the ground after a mysterious incident rendered the facility too unsafe to remain standing.
The owner of Stash Detroit told WXYZ-TV that he heard cracking and hissing noises reminiscent of an earthquake outside the facility on Saturday. The building then shifted upward as an 8-foot mound erupted on Dearborn Street on the city's far southwest side.
The owner, Mario Seman, had directed those inside the building to leave, and no one was injured. But the building sustained significant damage and was later condemned by city officials. The demolition took place on Tuesday.
The Detroit News reports that the "unknown underground event" remains under investigation by city, state and utility authorities, but that there was "no imminent danger" to the surrounding neighborhood. The mound in the middle of the street was still standing as of midweek. Hakim Berry, the city's chief operating officer, said officials were anxious to get to the bottom of it.
"We've talked to a lot of experts and all have said they've never seen anything like this," Berry said, according to the paper.
Company officials had reported a gas smell in the area in recent weeks, but officials told WXYZ that there was no evidence yet that the incident was caused by natural gas. Utility officials repaired a damaged gas main before the building was leveled.
Stash executives said they were just as puzzled as everyone else and relieved that its employees were safe. The company is working with its insurance company; it was unclear whether officials were able to recover its inventory and equipment from the condemned building.