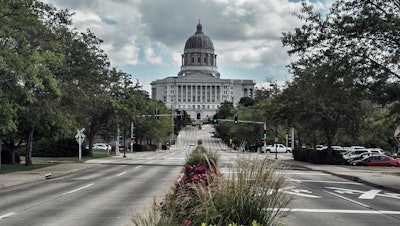 iStock
The nation's major cannabis companies could soon be able to join Missouri's medical marijuana market after a federal judge struck down a state residency requirement.
U.S. District Judge Nanette Laughrey on Thursday issued an order that blocks Missouri's requirement that its cannabis businesses be majority-owned by Missouri residents, the Springfield News-Leader reports. Laughrey had issued a temporary order blocking the requirement earlier this year.
The requirement was included as part of the constitutional amendment authorizing medical marijuana approved by voters in 2018. Many out-of-state companies have partnered with in-state operators in order to comply with the law, but one — Mark Toigo of Pennsylvania — sued over his inability to acquire a majority stake in his Missouri cultivation and dispensary operations.
State attorneys offered no additional arguments or briefs leading up to an eight-minute bench trial last week; an attorney representing Toigo suggested that the state hoped for a quick decision in order to take the matter to federal appeals court. Missouri officials did not indicate whether they planned to appeal.
Although the ruling would allow multi-state operators to bring much-needed external investment into Missouri's medical cannabis industry, current companies warned that it could be difficult to compete with established industry giants.
"It kind of takes out one of those few things that we had to keep everybody on even ground," Kim Andrews, the part-owner of Springfield dispensary OzaRX Botanicals, told the News-Leader.