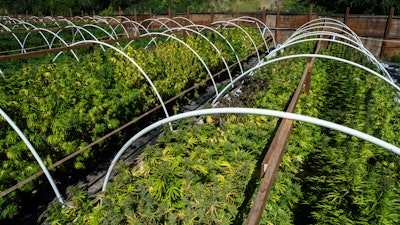 iStock
Washington state authorities this week destroyed some 13,000 pounds of marijuana for alleged violations of state cultivation limits.
But the farms in question suggested that state officials abruptly changed how they enforce those limits — and contended that authorities were tipped off by rival producers.
The Walla Walla Union-Bulletin reports that the state Liquor and Cannabis Board notified three medical marijuana farms in southeastern Washington of the violations in October and destroyed about half of their combined crop — worth an estimated $3 million — on Wednesday.
The farms — named Evergreen Nirvana, Black Diamond Cannabis and Green Volcano — are the only three in Walla Walla County because they established their operations before a a moratorium on medical marijuana production was approved in 2016. The county banned recreational marijuana operations in 2014.
Evergreen Nirvana and Black Diamond are limited to 30,000 square-feet of cannabis canopy, and Green Volcano to 10,000 square-feet. Those farms, however, long grew their crops on larger areas — and believed they were within the law to do so — because outdoor grows need more space between plants to ensure proper sunlight. The number of plants, an attorney for the farmers told the paper, would be well below the state limits at an indoor facility. He suggested that the agency had changed their enforcement practices without warning.
Craig VanZandt, part-owner of the Black Diamond operation, added that LCB agents did not identify a problem during visits in each of the past four years, and that many other outdoor cannabis farms in the state also grow plants on larger plots than their official canopy limits.
An LCB official told the Union-Tribune that the agency had not altered its policies and that although it wasn't spotted during previous inspections, the farms were likely in violation for many years.
That raised questions among the farms about why the issue was raised this year. Another part-owner of the farms, Mark Hoffer, alleged that rival growers had filed complaints with state cannabis regulators.
"I didn't think it was funny, but [an LCB agent] joked, 'You're just doing too good,'" Hoffer told the paper. "And that's why someone turned us in."