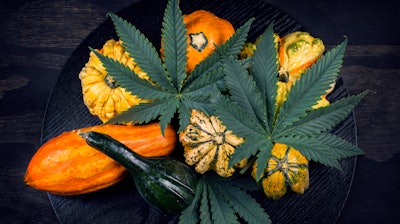 iStock
Business intelligence from enterprise software company Akerna predicts that U.S. cannabis shoppers will spend $251 million over the four days around Thanksgiving (11/24-11/27), a 60% increase over daily average sales.
The Wednesday before Thanksgiving has earned the nickname Green Wednesday due to its consistently high cannabis sales, and this year should continue that trend. Wednesday, November 24th, is expected to bring in $90 million in sales, a 78% spike from daily averages, making it the second-highest sales day of the year after 420.
Last year was the first time that Green Wednesday beat out Black Friday in cannabis sales, a phenomenon that is expected to repeat this year.
Thursday, November 25th, Thanksgiving, is predicted to bring about $4.6 million due to the shortened hours and closures of dispensaries and retail locations.
Friday, November 26th, also known as Black Friday, is expected to bring in another $88 million, up 71% from daily average sales. Black Friday will likely become another top 10 sales day for this year.
Saturday, November 27th, is predicted to gross $68.4 million in sales.
Other predictions for 11/24 - 11/27:
Category sales:
Flower – 48%
Cartridge/Pens – 32%
Concentrates – 10%
Infused Edibles – 9%
Other – 1%
Average order total:
Adult use - $81.20
Medical - $127.30
Sales by demographic:
Sales by age groups:
Under 30 – 28%
30-40 –31%
40-50 – 20%
50-60 –12%
Over 60 – 9%