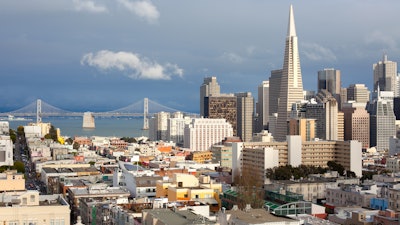 iStock
San Francisco officials voted to suspend a new tax on the city's cannabis businesses as legitimate operators struggle to compete with cheaper products on the illegal market.
A new municipal tax on gross receipts, ranging from 1% to 5%, was scheduled to take effect at the beginning of next year, but the city's board of supervisors on Tuesday unanimously approved an ordinance suspending it through the end of 2022, KPIX-TV reports.
The tax was originally approved in 2018, but Supervisor Rafael Mandelman, the author of the new ordinance, noted that state analysts have linked high tax rates to illegal sales. He argued that a flourishing illegal market not only undercut legal businesses, but represented a danger to both consumers and workers.
He also suggested that the city should focus on protecting dispensaries — amid a string of recent, high-profile burglaries — before levying a new tax.
"Now is not the time to impose a new tax on small businesses that are just getting established and trying to compete with illicit operators," Mandelman said in a statement.
He reportedly hopes to further analyze data on the city's cannabis industry before proposing new tax and regulatory recommendations for 2023.