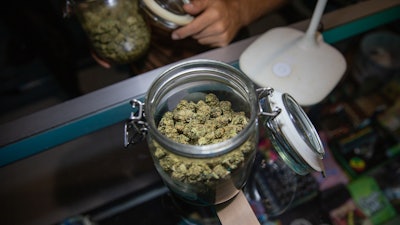 iStock
DENVER -- Enterprise software company Akerna predicts that shoppers will spend $373 million on cannabis products as they prepare for the Christmas and New Year's holidays.
For pre-Christmas shopping, consumers are predicted to spend approximately $87 million on Dec. 23 and another $97 million on Christmas Eve, Dec. 24, totaling about $184 million for Christmas preparations. Christmas Eve is predicted to be one of the top five sales days of the year.
For pre-New Year's shopping, Dec. 30 is projected to gross $89 million. New Year's Eve, Dec 31, is predicted to bring in $100 million in cannabis sales, becoming the second-largest cannabis sales day of 2021 and bringing the total sales for the two days to $189 million. The largest day for cannabis sales in 2021 was April 20, the unofficial cannabis consumption holiday.
"The days leading up to Christmas and New Year's have historically been two of the top five cannabis sales days, and I expect to see this trend continue," said James Ahrendt, business intelligence architect at Akerna. "As holiday gift shopping continues to face supply chain and shipping issues, shopping at your local cannabis retailer is a terrific way to avoid slowdowns while supporting a local business."
With both official holidays falling on Saturday, stores will likely be closed those days.