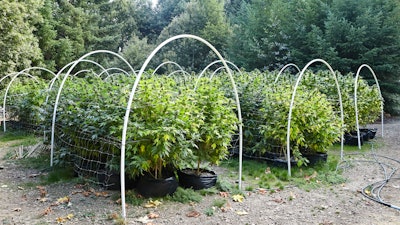 iStock
If you are currently working in the cannabis industry or interested in starting a cannabis business, College of the Redwoods is now offering a program to help you get started or improve your business.
Built out of a partnership with the County of Humboldt's Project Trellis, a trailblazing support initiative for the county's cannabis industry administered by the county administrative office-economic development team and funded by Measure S, the county's local cannabis excise tax, the cannabis business training program will lead students over four months through four core subjects that are essential to anyone working in the industry.
"Project Trellis is very excited about our partnership with College of the Redwoods and the creation of these incredibly valuable cannabis business training programs," said Humboldt County Economic Development Coordinator Peggy Murphy. "We hope this is just the beginning of empowering courses to help support our cannabis businesses to thrive in the legal marketplace."
In the online class, students will learn how to brand and market. products; how to develop and write a business plan; the ins and outs of human resources; and how to write a grant. Curriculum for the program was developed in collaboration with Project Trellis. Students who complete all four classes will receive a Certificate of Occupational Preparation. The cost per class is $155 and all four classes is $605. Getting the courses paid for by Project Trellis' Local Equity Program is easy, and those already participating in the program or interested in the Local Equity Program can contact Economic Development at 707-445-7745 for more information.
The classes will be taught online Wednesdays from 6-8 pm. The dates for the upcoming classes are as follows:
Marketing: March 2-23, 2022
Business Plan: April 6-27, 2022
Human Resources: May 4-25, 2022
Grant Writing: June 1-22, 2022
"I am very excited that we are able to offer this new program to the community in partnership with the County of Humboldt," said Matthew Cendejas, CR business professor and instructor for the cannabis business training program. "It will be a valuable resource for the local cannabis industry and will support the economic development of our region."
The cannabis business training program is offered through CR's Workforce and Community Education (WCE), which partners with the community to contribute to the economic vitality of the region, provides workforce training to support employers' needs, and provides lifelong learning opportunities. For more details on the program, contact CR at 707-476-4500, or visit the WCE website.
"College of the Redwoods is pleased to have collaborated with the County of Humboldt Project Trellis to create the cannabis business training program," said Prudence Ratlifff, CR director of adult and community education. "To help make sure we are properly preparing the local workforce, we need to provide programming that changes and responds to the needs of our region's economy. Legal cannabis business in California is relatively new, and this program is designed to support those cannabis employers navigating the commercial landscape."
Project Trellis is the three-tiered program offering cannabis business micro-grant program, a local equity program and a marketing program. The micro-grant program uses a portion of Measure S funding and provides cannabis businesses an opportunity to apply for funding to cover business-related expenses. The local equity program provides resources to local communities and individuals who have been impacted by the war on drugs. The marketing and promotion component is designed to promote and maintain Humboldt-grown cannabis as a national and industry brand.